Some great art resources,

from art sites, to the best online art instruction.
Here's my interesting art resources page.  It's where you'll find some of my fellow artist friends sites, and galleries I'm represented in.  I get a great deal of requests for links, so I've decided to place a few here too.  I simply can't work all of them into my content pages.  And besides, after reviewing the site, if I believe it would be a benefit to my readership, then there you have it.
I'm gonna start small, but if it gets to wild, I'll go to separate category pages. 
So, if you are an artist and have a website that you'ld like to be included here, then fill out the form on this page Link Exchange Form.
Until then.........

One of the best art resources I can think of:

This web site!  Well, at least you can learn more about painting in oils when you receive my newsletter that discusses new articles, new paintings, new demonstrations.  Just fill out the form below and sign up!  It's FREE!

Looking for beautiful artwork?

My online gallery page has my latest work available, well, most of it.  It seems uploading images to my Etsy store is easier so my site here is a few paintings behind.  You don't have to be however! 

I have a new email service that will notify you when a new work is available.  Once the varnish is dry, and the painting is ready to hang, I'll send out a short email message using my Fine Art Site's email service to notify you of new works available.  I also post out my blog too, which talks about my journeys in this world of art.  Click the link, and sign up on my home page.  You'll get a surprise gift for doing so! (It is a downloadable work of my art)

New Fine Art Site blog and new works notification email.
---
Art supplies and other art resources for the true artist in you:
Includes Free Chapter
Simply the best color course to help understand oil paint and color.  You will be amazed at what you learn.  

---
We are also a proud member of the Blick Art Materials Affiliate Team
Please understand that should you purchase anything I will receive a small percentage of the sale as an affiliate of Blick products. I use em, I recommend them. Great customer service too should you have an issue.
---
Easy Face Painting
Now, this is something any parent would love. I've saved tons for halloween costumes and parties using this great idea.
Come on, give it a try!
StormTheCastle.com
Creative projects of all kinds, Fantasy art school, dioramas, rockets, telescopes, cardboard weapons/armor and much more.
(Note)
If you've got kids that need information on some really cool modeling stuff, this is the site for you. The dioramas bring back a lot of good memories for me with my seven rug rats! Please do give him a visit!
Click Here for Drawing Lessons!
Check it out now as she has a number of special offers that she includes with her book. Some very nice offers! And the price is right too!
Art Schools
Worldwide Art Schools and Colleges directory.
Fellow Artists and Photographic Art Resources Sites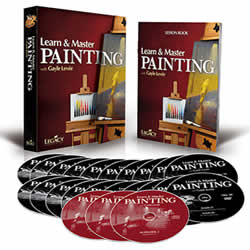 Stubbs Art Studio Fine Art Prints
Buy original fine art prints including acrylic and Giclee artwork from online virtual gallery Stubbs Art Studio.
Pencil portraits and World War 2 pictures
Dave Harris Art produces highly detailed pencil portraits from photos upon commission. Portraits of sports stars, movie scenes and World War 2 pictures are available as limited edition Giclee prints.
All About Drawings
This site is designed to encourage new artists to explore art and to show you the simplest way to achieve good pencil drawings. Easy outlines are provided for copying and practice. Let me tell you, this really is a premium site. Kerry has such a way of encouragement that those of us that struggle with drawing will always walk away feeling good about what they have accomplished. She shows you step by baby step how to get started. Give her a visit!
Purple Flowers and Plants
Pictures of purple flowers and plants. Also, shop for gardening books, gardening magazines, garden decor and gifts, purple flower art and other related gardening products.
Peter Clements Art
Offers you a discussion on pencil art, tutorial videos on drawing techniques and practical applications. Including a study on artistic creativity and initiative art.
New Zealand artworks
by Shaugn David Briggs.
Producing paintings that are of high quality and fine detail of New Zealand landscapes and culture.
Back to the top of our Art Resources page