Does the modeling paste need to be a flexible modeling paste?
by Stephen Caudell
(Burton, MI)
Gesso with Modeling Paste
Question: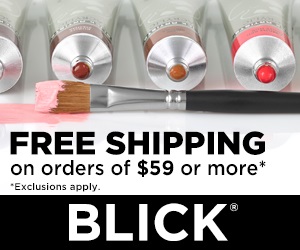 "Compensated Affiliate"
Does the modeling paste need to be a flexible modeling paste?
I purchased Liquitex Modeling Paste and on the side it says not to apply to flexible surfaces. It indicates that there is a flexible version of the modeling paste. Did I purchase the wrong kind of modeling paste?
Answer:
A great question.
Because the modeling paste is mixed with a very flexible product, acrylic gesso, this will not be a problem. I have not had any works using the 50% paste to 50% gesso cause issue. But it is something to be aware of.
I have noted the statement on the jar myself.
By all means, try the flexible modeling paste. I was unaware of it's existence! I will get some too, and report back here. I have a feeling it will not be easily sanded, but we will see. If it is too flexible, it will be like sanding a rubber tire.
I will have to devise a test to see if an issue can be created with the modeling paste I presently use.
Stretched canvas does flex some with temperature and humidity changes, but not enough to effect the paint film when following fat over lean.
I have removed and rolled a few of my works with no ill effect.
My concern would be when removing the canvas from its stretcher bar and rolling it in a tight roll.
Thick applications of even a flexible acrylic gesso will cause cracking. Very thin coats will not. I have not seen it with the 50% modeling paste either. (At least with my non-scientific testing)
No paint film can sustain a tight roll. Most framers and shippers recommend a 3 to 4 inch diameter tube to roll a painting onto. Anything tighter (smaller in diameter) will put micro cracks in the painting. Especially an older work where the paint film has become brittle.
At this point, I'm curious at what point I would see failure and cracking. I will fix up a small canvas and give it a super tight roll, then apply a thin wash of burnt umber. I'll then wipe this away and see if any small cracks have absorbed the paint.
I'll post my findings here.
If you come up with additional information, I will gladly post it here also.
Thanks for the great question!
__________________________________________________
Editors 2nd Note:
Ok, Here's what I've found. The different is only in the amount of marble dust in the 2 products. Because you are mixing the original with gesso, you are basically creating your own flexible modeling paste.
The photo's also prove out that the final 50% paste to 50% gesso mixture is flexible.
The first photo shows a sheet of canvas prepped with my usual mixture.
The 2nd shows an extremely tight roll to attempt to put cracks into it. I even with further with tightening falling short of actually creasing the canvas.
The 3rd shows an umber stain that shows no cracks but does show the fine lines created while sanding the canvas.
The 4th is where I taken an actual razor and cut the canvas in a distinct pattern to simulate a crack.
The canvas is not stretched and is extremely pliable. I would not put a painting through this torture, but here, I wanted to examine whether using regular modeling paste would crack on a flexible surface of the cotton canvas.
I hope this has eliminated your fears in using the method.
With best wishes,
Delmus