Painting Landscapes, what are you trying to achieve?
Along with the 3 best approaches in accomplishing your goal.
What's the main point an artist is attempting to achieve within painting landscapes?  Well, let me try to answer that.  There is no true right or wrong answer, but at least allow me to give you my perspective. 
Like any painting (still life, portrait, landscape) you, as an artist, are bringing a freshness, a depth of vision in what you see, and placing them in terms that are more meaningful and more significant to the viewer than what would be readily, and commonly apparent.

Includes Free Chapter
Another way of saying it, you want to make something, (that in nature is already beautiful), better!  To punch it up a notch, so when someone who has seen that bridge every day for um-teen many years, will stand back and take notice. 
Maybe even have that little suck of breath intake when recognition takes place, and marvel at the "not so apparent" beauty YOU have brought to their attention!

There are 3 ways to tackle painting landscapes.  The direct approach, the indirect (or layered) approach, and a combination approach in which the majority of the work is completed in one sitting, then highlights, details, minor adjustments, are done back in the studio when the work has dried.

Paintings can be done in a realistic manner, or a more abstract manner.  They can be Surreal, (marked by the intense irrational reality of a dream, unbelievable, fantasy) or purely imaginative. 
Within the genre, you have seascapes, cloudscapes, skyscapes, cityscapes (urban). 
So many variables!

So where do you start?

Well, at this point start thinking on whether you want to go direct or indirect. 
If you go direct, you will be using the Alla Prima technique.  A technique in which the painting is usually done at first attempt and in one sitting. 
A lot of Plein-Air, (French term for "in the open air") painters use this technique.  But you can also use an indirect approach with the help of photography.  You can shoot pictures, take a few notes, and head back to the studio to begin your layering processes.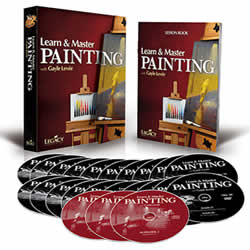 Most pros use a combination of both! 
They will make small studies in Plein-air to capture the moment quickly. 
(Outdoor lighting is constantly changing) And they will take copious notes, sketches, and photographs.
They also make sure the main color scheme is captured within their small study, and photography, notes and such will not remind the human eye as well as a matched color on a study canvas.

Back in the studio, pulling all this reference material together, work will really begin on a larger scale.

I will discuss more about Plein Air painting landscapes technique, along with other approaches, so pull up your chair a bit closer, make sure that coffee cup is full, and your mind is open for some exciting information in more oil painting techniques.

Also, if you're want to try landscape painting, click the link and get a boat load of instruction on how to create a very famous landmark here in Virginia.  It's a painting that will be sure to surprise your family and friends!
Back to top of painting landscapes.