Easy Oil Painting Techniques SiteMap
As this site grows, I will be updating this site map or index to better enable you to move around to the section you want. Or, just fill out the search box in the upper right hand corner of the page to get to something specific.  This particular index is always going to be slightly outdated as new material hits the site pretty regularly, but my little index keeper upper is on strike and doesn't like creating on the new links.
What's here however, will give you a good idea of the subject matter and range of topics within the site.
Also, near the bottom is a link to my online gallery where you will find a number of my paintings and where you can find them in real brick and mortar Galleries, or through my online sales pages.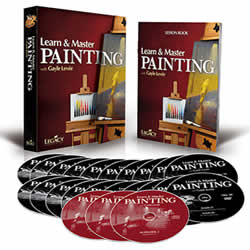 Oil Painting Techniques that are Easy, Simple, FUN!

This is the main Home Page. From here you start your journey! Learn these oil painting techniques, and enjoy a lifetime of creative freedom!
Color Mixing Guide



Color Wheel, Color Schemes

A whole new section on Color Mixing, Color Theory, and Color Psychology. No more making mud! Check these great pages out and brighten your paintings up with these great tips, and lessons.
How to Paint Flowers

Some really great tips on painting that formal bouquet or just that wonderful daffodil you just picked from the garden.


Rose Art

I have a whole section on Roses that is growing! Gosh they are beautiful flowers. Learn how to draw them, paint them, grow them, and some history to boot!


Oil Painting Tips from my EASEL!

Paintings in progress, as I discuss some of my problems and how I go about fixing them. Oil Painting Lessons from my EASEL! I also have links to dozens of painting demonstration from here.


Art Career, Art Business, Art Marketing

Art Career News, Art Business, Art Marketing, and Artist Promotion techniques with other musing's that come to mind about the business of art, and what it takes for you to become a better artist outside the studio.


History of Art, American Art History

A launching point for several interesting articles on Modern art, classical art, and a 4 part series on Leonardo Da Vinci paintings and the real facts surrounding the pieces in uncovering "the Code".



Leonardo Da Vinci and the Code

A four part report on the real facts surrounding several on Leonardo's most famous works, 2 of the worlds most famous paintings! And if you live in the U.S., where you can actually view the only Da Vinci painting in America! Start your investigation here.


Modern Abstract Art

A discussion about understanding this genre of art.


Art Politics and the role it plays in todays Art.

A discussion about how politics played an important role in the creation of one of our greatest art movements.
A full listing of articles on materials, ancient re-discovered techniques, a little history, a 7 reasons why you should oil paint!

How to Buy Art

With all the home decorating idea's out there, where do you start? You'll find a quick and easy step-by-step guide on how to narrow down your choices.


Click here to see more of my paintings!